Wayfarer is a digital platform for travelers to discover new locations to visit around the world. Wayfarer's target audience is anyone between the ages of 21 and 50 who
is a frequent traveller looking for new adventures
.
Wayfarer is a fictitious project at UX Foundations from Designlab.
Date: Febuaray 22-28 2021
Deliverable: iOS App & Landing page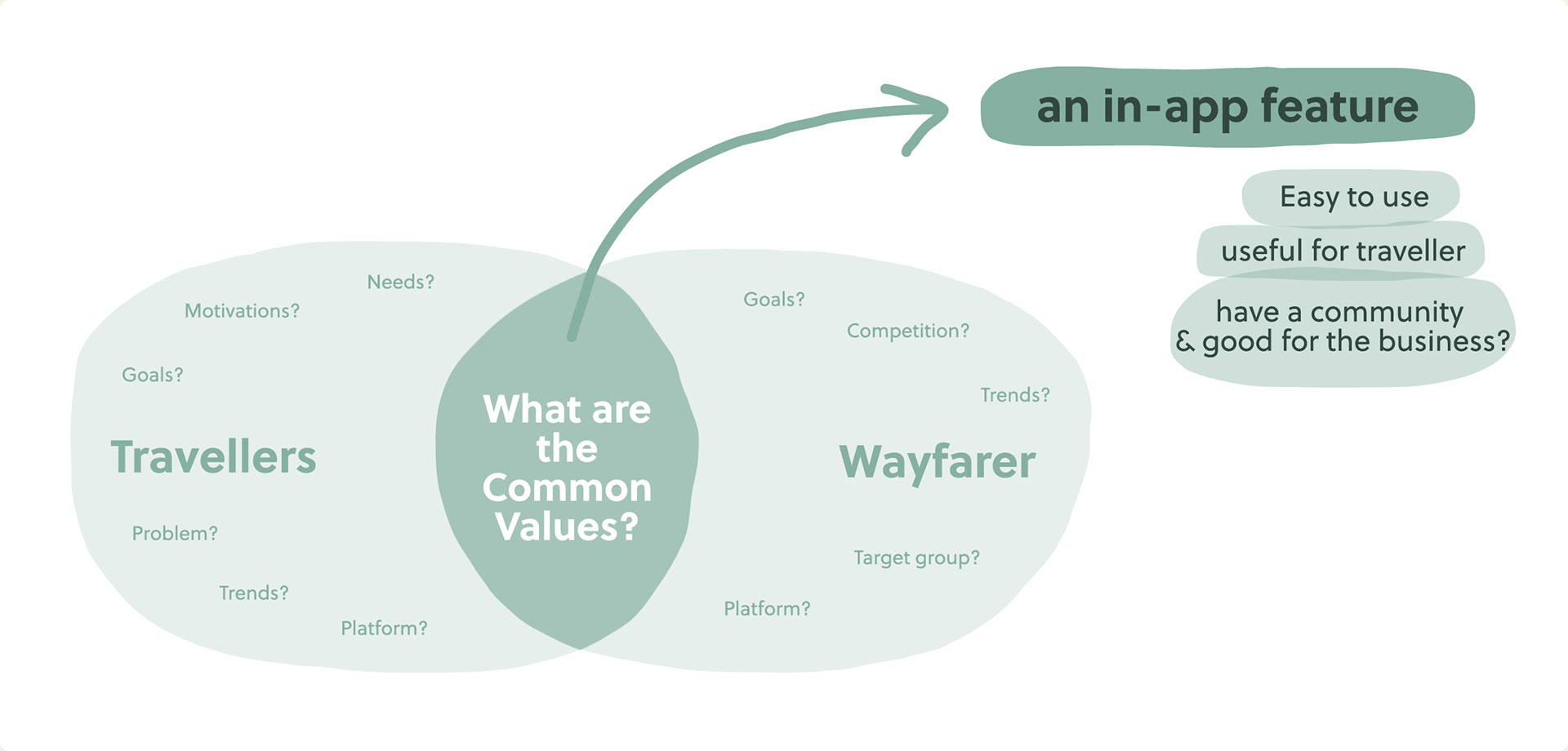 I am aware of the importance of balancing the customer's and the business's needs for a longtime and sustainable success. In this project, I focused on
creating a feature that is benificial for both, the user and the business
.
Therefore,

the challenges

 were: 
​​​​​​​
•   How to identify

the right opportunity

?
•   How to find the best solution that is

simple and easy to use

?
•   How to finish the project 

within a week

?

Research & Identify Opportunities
Because of the short timeline, I decided to focus on 

secondary research

, 

direct and indirect competitor analysis

 to gain insights for ideation. The research data confirmed some of my assumptions and showed new aspects that could be interesting opportunities for creating a feature that is benificial for both, the user and the business.
​​​​​​​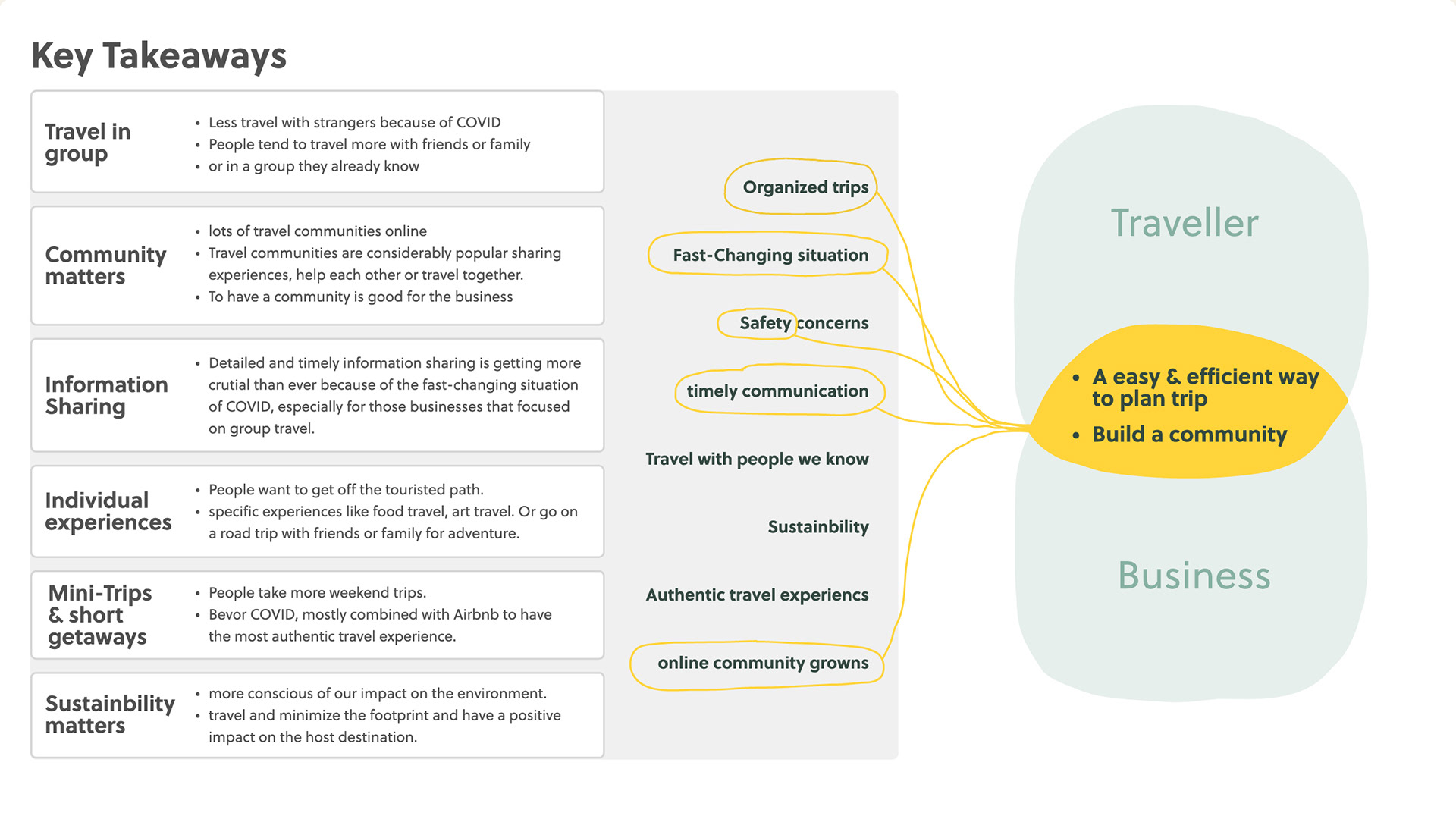 Ideate the Possiable Solution
The results of my research gave me valuable insights into the travel industry and combined with my empathic understanding of the user's needs I came up with the idea of "

creating a new group

" feature with a "

group chat

" function. It allows the user to plan trips together with their friends and family and benefits the business by increasing the user's investment in the app.

Creating Flows for Clarification
By focusing on the user flows and task flows first, I was aiming to find the simplest solution possible to implement the idea with the time I had to solve the problem. It was a process of clarifying the goal and eliminate distractions.
• User Flow - The Feature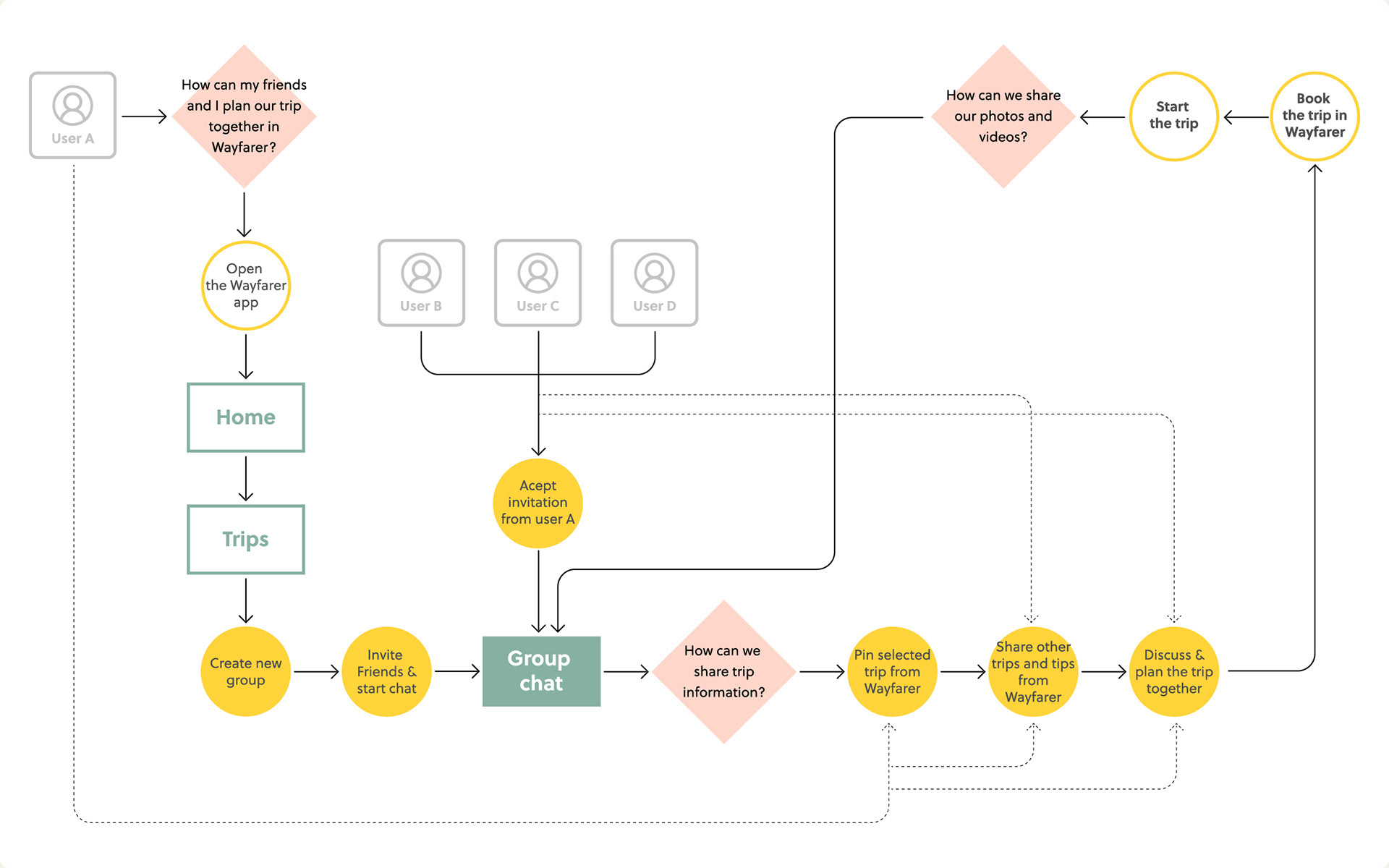 • Task Flow - Create New Group

• Task Flow - Pin Trip in the Group Chat

Hi-Fi Wireframes & Iterations
Consider the time limitation, I jumped straight into Hi-Fi wireframing without spending extra time on Lo-Fi wireframes. Although, I included some other essential screens like home, search, and detailed destinations, my

primary focus

was optimizing the features toward a fluent and easy user experience. 
•  Trips
 with create new group feature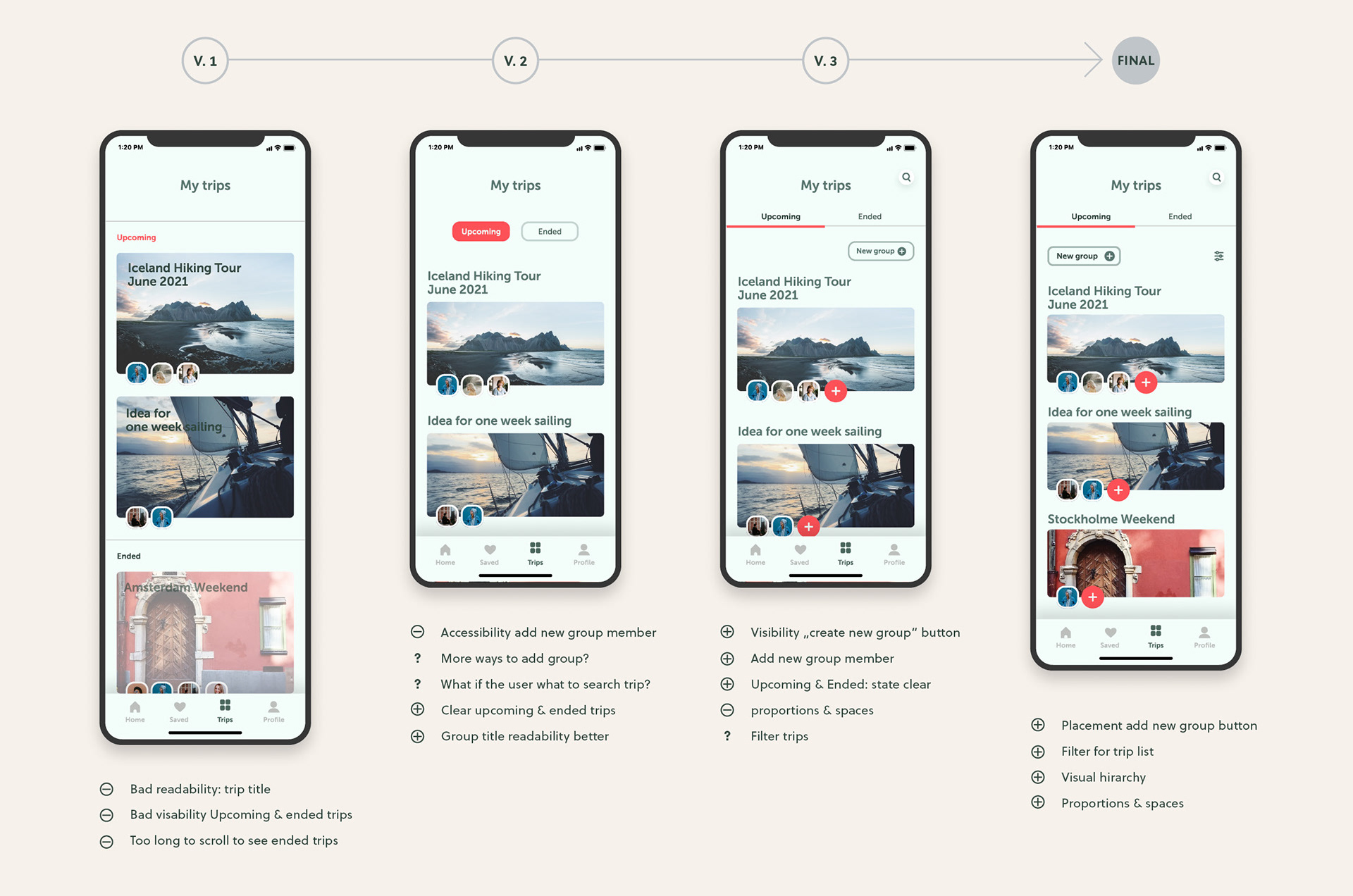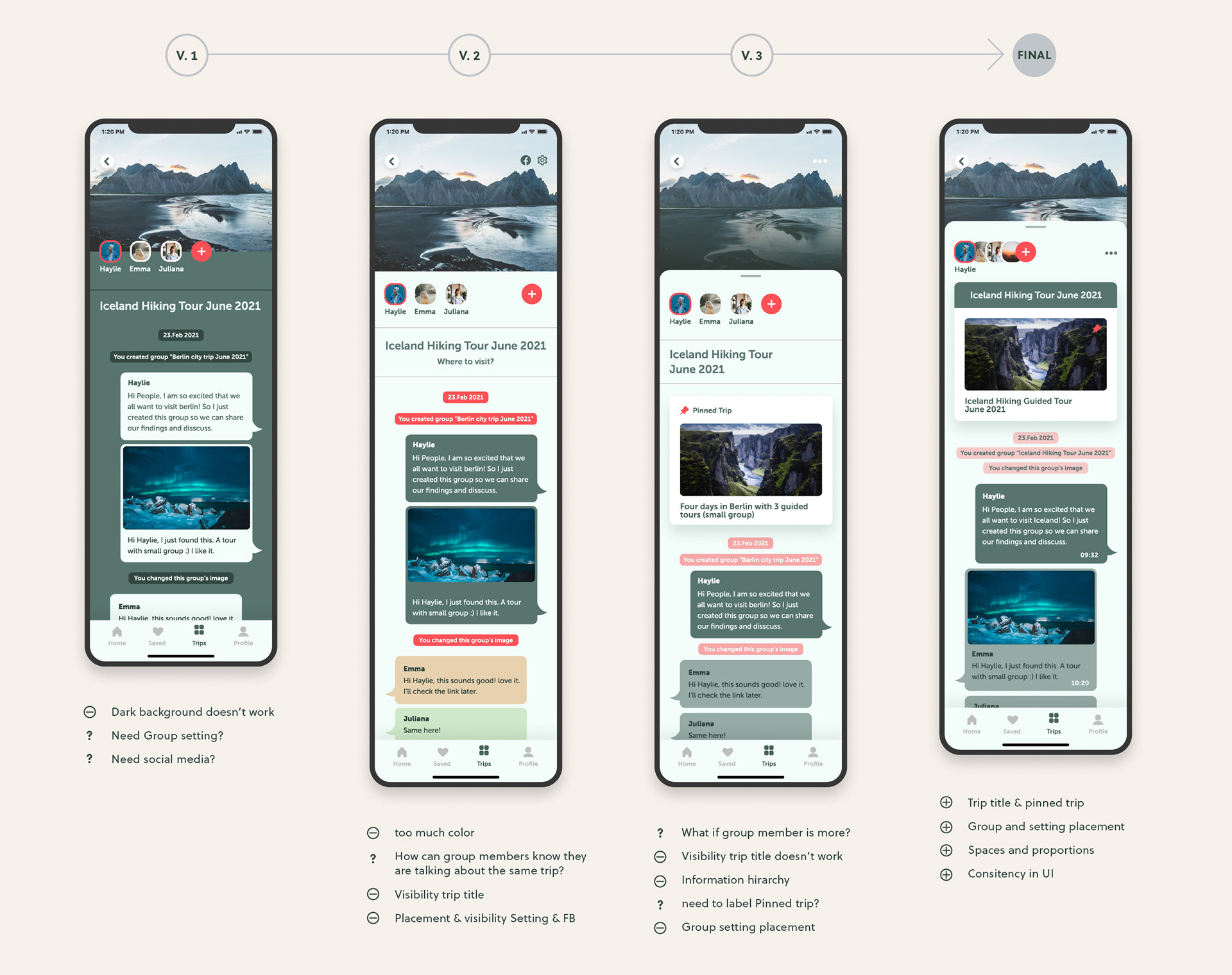 Wayfarer was the final project in UX Foundations. After seven weeks into the program, I've gained a basic understanding of UX and exercised with small projects focusing on a single area in the UX or UI. Although this project expected to create Hi-Fi Wireframes and demonstrate UI Skills, I want to challenge myself by applying my UX skill through a more comprehensive view for further learning. 
It was great to go through the

UX work process

even it was on a very small scale. I've learned how crucial and time-saving it is to focus on working on the flows before starting to design the screens. I've also learned how

exercising

critical thinking

in the iteration process could make the work more efficient. Overall, the feedback I've got from my mentor and peers gave me an awareness of different points of view, and consequently, I could be more

empathic

when I was working on the design.

Create your group with friends 
& plan trips together

​​​​​​​